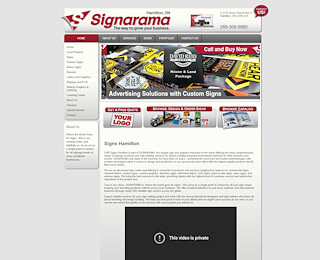 SAR Signs is your one-stop source for custom signs in Hamilton. As part of the global SIGNARAMA network, our Hamilton branch is capable of creating a wide variety of signs, including banners, LED, window, commercial, and point of sale signs. Discover the most effective business promotion for your business in our website.
Ensure that a good number of people will attend your event by having custom signs set up around Hamilton. Research shows the earlier you put up your signs, the more people are more likely to come. The best time to start hanging your signs is about a month or two before your event. This way, most people will be able to see your signage about 50 to 60 times in a month.
The great thing about a custom sign is that it allows you to easily include your own logo or the logo of other partners or sponsors. It's very easy to have a custom sign made-simply upload your design to the printer's website and they can take care of the rest. Of course, if you don't trust your creative skills, you can always enlist the help of a professional designer.
At SAR Signs Hamilton, we can create any type of signage that you want. We can even provide professional design services. If you already have your own design, that's fine, too. Simply upload your artwork here on our website. Don't forget to fill up the contact form if you want to request a free quotation. To get inspiration for your own custom signs in Hamilton, why not check out our portfolio? We can create just about any sign at a price that you can afford. Call SAR Signs Hamilton at 289-309-9880 for inquiries.
Custom Signs Hamilton